Development Case

Native English Supportable Pepper App                     

We have developed multi lingual Pepper app for inbound, which was using at marketing at technology foremost line booth in "Food Convention 2015 Autumn".

We have showed the app at marketing technology foremost line booth of in NIPPON ACCESS, INC's exhibition, "Food convention 2015 Autumn in Intex Osaka" (July 16th Thu) and "Food convention 2015 Autumn in Saitama super arena" (July 22th Wed, 23th Thu).

As its feature, retail companies from all over the Japan gather at the same time. We focused on "countermeasures for foreign visitors" which is one of the mission for retail companies. We have developed a English supportable floor guide app of Pepper.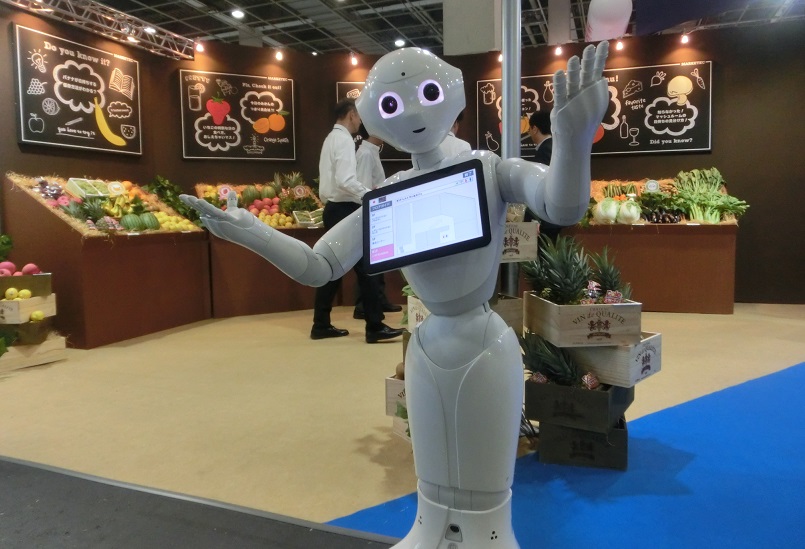 Barker
We have been trying some on-the-site inspection of Pepper, He is good at stopping the feet of the customers who come drop by chance.

There are slightly changes depend on the circumstance of the place, however, because his height is short, sometimes people would not recognize his existence when he just stand there.

Barker mode can appeal his existence more by big and smooth body languages plus, his sounds.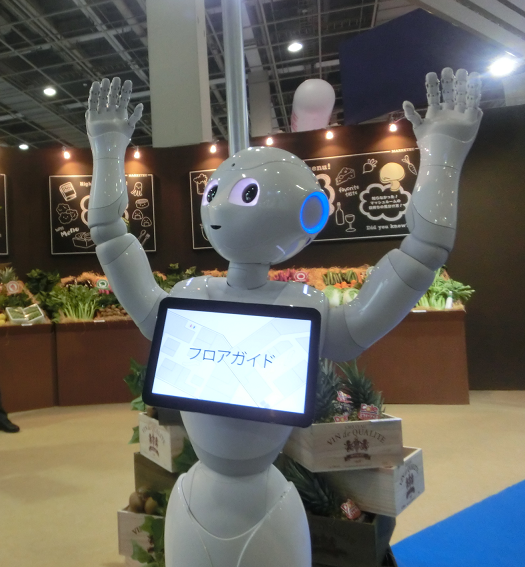 Information
This time, Pepper was by the entrance side of the venue, he was greeting to the customers who coming in and give them floor guides.

Also, this app can give you guides of each floors from B1 to 3F by touching the operation monitor of his tablet.

Multilingual
Assuming actual foreign visitor, we developed a app to able to communicate in native English.

As Information, He can use Chinese and Korean language which many retail companies requested. You can switch the language by touching the button on the monitor.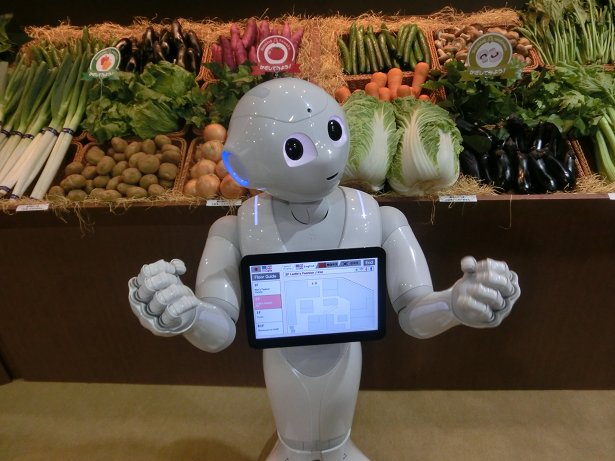 Looking back the implementation
ingenious Operation
As the result of the operation, significantly popular actions of customers for Pepper are talking to him, taking picture, shaking their hands. If Pepper can not react these actions, the excitement will be decrease less than half.

So, we have used his touch sensors which are implemented on Pepper as hidden commands. And we prepared some action activate switches for starting actions like taking pictures, so that staffs on his side can help Pepper to make ad-libs depend on the actions of customers.

In regular operation of Pepper, not only activate the apps which assumed at the first time, but also to make it update to suit for the venue as soon as possible is one of the strategy to be supported by customers.