2016.09.07

Conducting a presentation about evolving Growth hospitality robot on cloud on Sep 7(wed)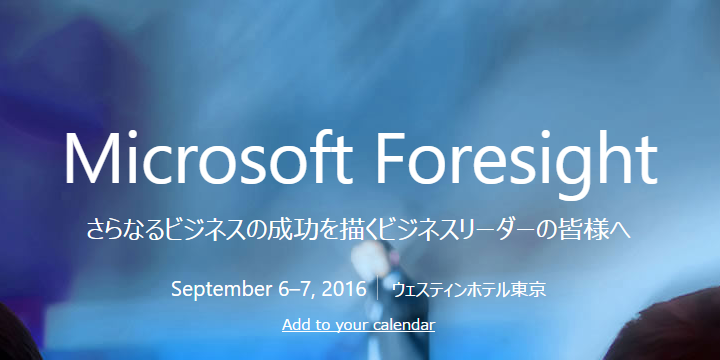 We are writing to inform you about the Representatives of Companies was conducts a presentation at Microsoft Foresight on Sep 9.
◆Microsoft Foresight outline
I provide a concrete business example, an experience opportunity how you can realize a business transformation to gain further success while a destructive switch of the existing industry structure by the spread of techniques such as IoT and the AI is taking place. Please catch a new in site to have you secure market superiority by all means while a market suddenly changes, and there are a variety of choices to a customer.
(from Microsoft Foresight official site)
---
■Date:Sep 6,2016 (Thu) 10:00-18:30 Sep 7,2016 (Wed)
---
■Place:Westin hotel Tokyo 1-4-1 Mita meguroku Tokyo
---
■Sponsor:Japan Microsoft
---
■target:Business leaders,manager,officers,strategy planning
---
■Participation cost:Free
---
■Contact us:Microsoft Event seminar contact us
TEL: 0120-37-0196 (9:00-17:30 Except Saturday, Sunday and public holidays)
---
Microosft Foresight official site:http://microsoft-events.jp/msforesight/
◆The lecture
Business support cloud services head Waters is wisely more a robot developed by "SynApps".Pepper and by linking the Microsoft Azure Cognitive Services, has realized the robot responsible for the acceptance of the company, such as voice recognition function to respond separately listening to the face recognition function and words to change the service content to remember the face of the people.
In this performance, actually, Inc. free cell We had introduced the "SynApps" (President: Shibuya-ku, Tokyo Yuki Kimura) and introduces you to how to take advantage of the robot.

「SynApps」detail is here Click
◆Freesale.co.Ltd
Established:2001年8月
Capital:9,950 million yen
CEO: Yuki Kimura
Number of employees :207 people (May,first,2014 except part timer)
Headquarters location:Teitoshibuyabill 4F・5F Nampeidaicyouu,Sybuya,Tokyo
Business:Web integration,Web consulting, support of Venture,Media management
group company:AZANA Co., LTD,FREESALE VIETNAM Co., LTD.FREESALE ASIA PTE.LTD
Web site:https://www.freesale.co.jp/
Inquiry for this case
Headwaters Co., Ltd
Human and Robot Department
Tel:03-5363-9362
E-mail:info_robot@ml.headwaters.co.jp